ACRC, Protector of Citizens, to Resolve Difficulties of Foreign Companies Operating in Korea
ACRC, Protector of Citizens, to Resolve Difficulties of Foreign Companies Operating in Korea
ACRC will visit CanCham Korea to listen difficulties of foreign companies and discuss ways to resolve them -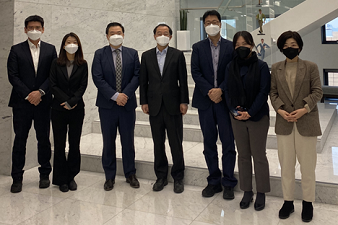 On February 25, the Anti-Corruption and Civil Rights Commission (ACRC, Chairperson Jeon Hyun-Heui) will hold an onsite foreign business grievance meeting with Canadian Chamber of Commerce in Korea (CanCham Korea) to hear difficulties of international companies operating in Korea and discuss institutional improvement issues raised by them.

The onsite foreign business grievance meeting will be held at the office of CanCham Korea in Jun-gu, Seoul, with the presence of ACRC Foreign Enterprises Ombudsperson, Mr. Park Gye-ok, CanCham Korea Chairman, Mr. Rockey Yoo, and other officials.

the meeting, the ACRC will listen to difficulties of CanCham Korea members regarding administrative complaints, introduce functions of the ACRC, and discuss ways for stronger cooperation between the ACRC and CanCham Korea.

CanCham Korea is a non-profit organization founded in 1995 to support Canadian companies operating in or related to Korea.
This will be the second of its kind held by ACRC Foreign Enterprises Ombudsman this year, following a meeting with the European Chamber of Commerce in Korea (ECCK) last month.

Issues raised during the meeting with the ECCK, regarding policy improvements, such as reasonable adjustment of the scope of excepted driver insurance coverage exemption and reduction of time required to register environmentally friendly vehicles, are now being thoroughly reviewed by the ACRC.

ACRC Foreign Enterprises Ombudsperson Park Gye-ok said, "Canada, a country with which Korea signed a Free Trade Agreement, is a longstanding partner for Korea. The ACRC will further its efforts to protect the interests of Canadian enterprises doing business in Korea."

He added, "The ACRC will continue to actively listen difficulties of foreign businesses in Korea and will do our best to resolve them"