ACRC, "Anti-Corruption Education Completion Ratio Among Public Officials Reached 95 Percent_"
ACRC, "Anti-Corruption Education Completion Ratio Among Public Officials Reached 95 Percent
Last Year… Showing a Steady Increase"
Anti-corruption education completion rates for elected local government heads (70%) and local council members (77.8%) were relatively low
ACRC announced the results of inspection of anti-corruption education completion status in public institutions
(May 24, 2022, ACRC)
It was found that 1.74 million (95%) public officials in 2,073 public institutions completed their mandatory anti-corruption education last year, a steady increase since 2016.
Anti-Corruption and Civil Rights Commission (ACRC, Chairperson Jeon Hyun Heui) published its inspection results of public institution anti-corruption education completion status on May 24th.
Since September 2016 when anti-corruption education became mandatory for public officials to complete, the number of public officials who have completed the education has steadily increased from 1.57 million in 2019 to 1.62 million in 2020 to 1.74 million in 2021, indicating successful establishment of the system.
By type of public institution, the completion ratios for Office of Education, central administrative agency, public service-related organizations, local government, local council, and public universities were 98.1%, 97.3%, 94.5%, 92.2%, 88.8% and 62.7%, respectively.
The number of public institutions with completion rates of less than 60%, such as Pocheon-si in Gyeonggi Province, Gangwon Provincial Council, and Gongju University, was 90*.
* 4 lower-level local governments, 20 local councils, 18 public universities, 45 public service-related organizations
Among 2,097 public institutions subject to the mandatory education, 24 institutions have not submitted their completion records.
As for the participation rates of heads of institutions, office of education and central administrative agency showed the highest rates of 98.2% and 94.9%, respectively, followed by public service-related organizations (91.2%), local governments (81.8%), local councils (87.6%), and public universities (68.4%).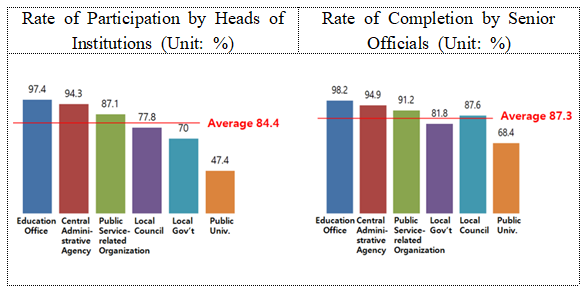 The inspection results found relatively lower completion rates among elected heads of local governments (70%) and members of local councils (77.8%), who are responsible for transparency and integrity of local authorities, and the lowest completion rates among public universities.
Accordingly, ACRC will try to enhance the effectiveness and completion rate of the mandatory anti-corruption education through various means, including by offering special training for officials in charge of anti-corruption education management in the institution showing lower anti-corruption education completion rates and disclosing their completion rates to the public.
ACRC Anti-Corruption Bureau General Director Han Sam-Seok said, "It has been six years since the anti-corruption education became mandatory for public officials, showing stable settlement of the system. However, anti-corruption education needs to be more strengthened for public universities, local authorities, local councils, and public service-related organizations which have been newly designated as such," adding that "there have been many changes, including the launch of a new administration and the organization of new local governments, and the enforcement of the Act on the Prevention of Conflict of Interest Related to Duties of Public Servants. Given these changes, we will put more efforts into further improving anti-corruption efforts and integrity capabilities of public institutions."